Modern GRP fibreglass roofs in Edinburgh
If your roof needs modernising or replacing, a GRP fibreglass roof could be the perfect answer for you. They are extremely durable, weigh less than conventional slate or tiled roofs and they are simple to install. A fiberglass roof is very popular today because:
They can be installed on any roof, on any property
They last longer than conventional roofs
You can choose a style or design to suit your property
They protect against fire and sunlight
There are no joints so no leaks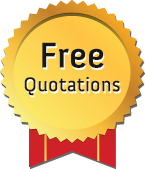 All of our roofers are trained and skilled at GRP fibreglass roofing, so there are no problems with installation. Choosing the wrong roofing company can cost a lot of money in putting bad work right, so choose right first time and contact your local fibreglass roof specialists now on Edinburgh 0131 513 9705.
Great services from a local company
We're available for work throughout Edinburgh, and we're recommended by many customers because:
We have years of experience in the roofing industry
Our team are friendly and industrious
Our prices are affordable
Our estimates are free of charge
We guarantee all roofing works
We're local to you
If you're confused about your flat roofing options, or just have a question, give us a ring anytime. We'll always offer you a free quote from a top company that can be trusted to do all your roofing work.