Reliable roofers to the rescue
Has your roof in Marchmont or Grange been damaged or are you getting damp walls and ceilings? Don't fret, as we can offer:
Fibreglass roofs
Roof tiling
Slating
EPDM rubber roofs
Skylight Windows
Repair of chimneys & lead flashing
Re-roofing whole/part of roof
Repairing of roofs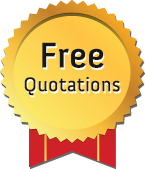 If your roof hasn't been maintained well or it's been a long time since the roof was done on your home, you may find that damp starts to affect the walls and ceiling and if that is the case you need to call in the experts. That's where we come in, offering highly professional roofing repairs and new roof installations in Marchmont and Grange.
Damaged roofs can leave you uncomfrotable in your own home but we want to see you enjoying your property again, so telephone 0131 513 9705 today and we'll sort the problems out.
Low prices every day
We strive to offer your a great service at competitive prices and we believe that we're succeeding.
With us you get:
A roofing company with a great reputation
Hardworking and trustworthy roofers
Top quality, professionally installed roofing
Free estimates and low prices
Even if you think the problem is big and you're concerned about how much it's going to cost, don't leave it to escalate. Our prices are competitive so get in touch to get a free quotation before it's too late.