Roof repairs throughout Edinburgh
Any issues with your roof such as leaks can cause serious damage to your property so it's important to get your roof repairs done as soon as possible by a professional and quality roofing company such as us. Get in touch for information on:
Repairs to slate roof
Tiled roof repairs
Re-roofing all or part of roof
Storm damage repairs
Chimney repairing
Repairs to flat roof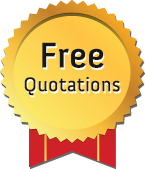 We're skilled and experienced roofers and we're pleased to be able to be of service to you to ensure that your family stay safe and warm all year round. We have a great reputation with a long line of clients who have been delighted with our roof repair services and we intend to continue pleasing our customers well into the future!
If you notice any damp patches in the ceiling or walls upstairs or any tiles or slates missing from your roof, be sure to act quickly to avoid having to pay huge sums for other property repairs. Call us immediately on 0131 513 9705 if there is anything you need to chat about with regards to your roof.
Your roof taken care of - properly
We're long established, professional Edinburgh based roofers. With us you can be sure to get:
Experts in roofing and roof repairs
Reliable roofers who won't let you down
True and real value for money
Free quotations on all roof work
A lengthy guarantee on all work
Local friendly roofers you can trust
There isn't a doubt in our minds that you'll be truly delighted with what we do, so call us now!