First-rate roofers at affordable prices
We guarantee the highest degree of expertise in roofing across Portobello and Duddingston, including:
Tiling & slating
Roof repairs
New roofs
Restoration work
Chimney repairs
Roof windows
Gutter maintenance
Roofing advice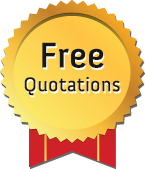 Your roof is vital to your home as it protects the structure and interior from damage caused by weather such as heavy rain, snow and extreme heat. It also prevents heat from escaping during winter. That's why if your roof needs repairing, you need to get the work carried out as quickly as possible.
We have great expertise in roofing, chimneys, skylights and various roof materials and are proud to be of service to you as your local roof specialists so don't hesitate to call us on 0131 513 9705 to discuss your roofing needs.
Roofing services when you need them
We always use high performance materials to make sure that your roof is durable and will last a long time so that you don't have to pay for repair work time and time again. You can be sure you'll get:
A company with an excellent track record
Outstanding quality roofing

Free quotes and affordable services
Hardworking, skillful staff
To get your roof fixed or a new roof installed in Portobello or Duddingston get on the phone now! We're available day and night to deal with any roofing problems that may arise in your home.